1. Jennifer Lawrence
Wins, trips and works that fall like no other giving us the best one-liner of the night.
"You guys are just standing up because you feel bad that I fell." Gotta' love J-Law!
She also gave us the most GIFable moment of the night:
To you, smart-ass laughing at Ben's stuttering/high-speed speech, Argo F*ck Yourself!
I want to see you accepting an Oscar. Oh, you won't ever do that -what was I thinking?
What a fantastic moment for the snubbed Director to be able to go up there and receive the biggest honor of the night. Affleck made sure he got out everything on his mind, and for that reason, doubled the speed on the speech. Can't blame him. Who would want to get that nasty Jaws wrap-up music!?
"Doesn't matter how you get knocked down in life, because that's going to happen. All that matters is that you gotta get up" -Ben Affleck
Also, what's better than Affleck in the verge of tears?
Watch full acceptance speech: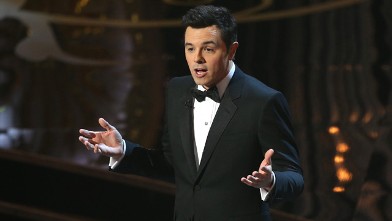 3. Seth MacFarlane
Haters gonna' hate. The man was fantastic!
People calling him the worst Oscars host were obviously in a comma when Anne Hathaway and James Franco hosted.
Like I predicted
HERE
, he gave us voices, he plugged his movie Ted & he gave us lots of musical performances. I loved him.
4.
The Whole Opening
From Seth to Channing Tatum and the ridiculously gorgeous Charlize Theron dancing! Who knew she could dance? One cannot simply fake ballet posture and I can spot proper ballet arms when I see them.
My favorite moment of the opening?
The Gay Men Chorus and this:
Seth MacFarlane: "Just so you know, I'm not actually a member of that chorus, I just join at the end there."
William Shatner: "Oh, trust me, in 2015 you join the chorus!"
WATCH THE WHOLE OPENING:
4. Well, These Women Can SING
The legendary Barbra Streisand performs during the In Memoriam.
Also, onto more important things. Let's discuss Jennifer Hudson's breasts
here.
5. Daniel Day-Lewis
Wins Best Actor, making him the first actor to ever win 3 Oscars in this category!
Then, he gives us the BEST Acceptance Speech of the night. Let's give him an Oscar for that, too!
Click here to read
my predictions
, which also happen to be the winners. 7/7 on major categories.
*Drops Mic*
Best Dressed and Worst Dressed HERE.